Starting a new home renovation project is an exciting task. However, it needs some expert advice when it comes to making decisions on the types of carpet runners and area rugs to purchase. Talking about the type of carpets, you need special advice during its search and the installation period so that you do not get confused.
Let's find out the available variety of fibers, the properties, and styles of carpets available in the market.
Types of Carpet Materials:
Woolen carpets are the best options if you want a cozy room that can keep your feet warm especially during winter. A woolen carpet is quite suitable for a family setting because of its soft texture and long durability. The carpets come in a variety of rich colors and the material is very easy to clean.
Polypropylene (Olefin) carpets are tough in nature but very soft to the touch. The most interesting thing about this material is its stain-resistant flooring and the fact that dampness or sunlight has no effect on it. You can clean it using bleach. It is also suitable for a person with a family of young children and even pets.
They are quite strong and durable. Polyamide carpets are most suitable for busy areas such as the living room because it is very easy to clean and quite resilient. This material offers great value due to its affordability.
The natural fibers and renewable sources used on the carpet make it environmentally friendly. Natural carpets are quite practical given their modern look. If you are looking for versatility and something that is aesthetically pleasing, then natural carpets are exactly what you need.
Carpet Types
Apart from looking at carpet materials, you also need to research on types of carpets that are available in the market. The following are some of the available carpet types:
Twist or Frieze carpets are very smooth and they last longer. If you want something stylish and popular for busy rooms like the living room, there you go. It is a carpet suitable for large families and it comes in plain and heather colors depending on your preference.
This type of carpet is very luxurious and is suitable for bedrooms and any other room that you want to show off. It is super soft and has thick piles that massage your toes gently.
This type is mostly preferred by big families especially those with kids that are likely to mess up the floor. However, it is not suitable for homes that have pets because claws could destroy it.
Manufacturers produce the Berber carpets through loop or twist techniques that come in a variety of finishes. They are stain resistant and can still look stylish even with muddy footprints.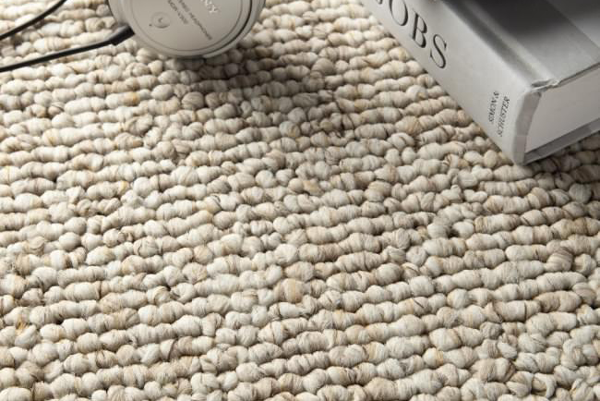 When it comes to carpet choice, there are many things to consider. At the same time, you need to stay abreast with the latest and most stylish brands in the market. Stay tuned for more advice on carpets, runners, area rugs, and rugs in general.